Ray Charles - Crying Time 1966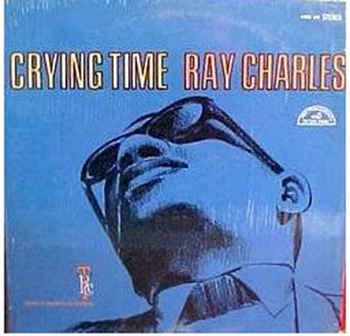 Crying Time" is the title of a popular song from 1966 (see 1966 in music). The song was written by country music singer-songwriter Buck Owens.
Owens recorded a version of his song, but it failed to reach the music charts. A cover version of "Crying Time" was then recorded by R&B singer Ray Charles, and this version proved to be a hit. Featuring backing vocals by the Jack Halloran Singers, the song reached #6 on the Billboard Hot 100 chart in February 1966.Charles' version of the song also peaked at #5 on the R&B chart and spent three weeks at #1 on the adult contemporary chart.In the United Kingdom, the song reached #38 on the British pop chart. In addition, Charles' version of "Crying Time" won two Grammy Awards in 1967, in the categories Best R&B Recording and Best R&B Solo Performance.
Charles intended his version of Owens' song to be a tribute to the country music style he appreciated (indeed, Charles had successfully covered other country music songs in the past, such as "I Can't Stop Loving You"). He was quoted as saying that he didn't record "Crying Time" and other country songs written by Owens "out of disrespect for Buck. I'm crazy about Buck. But I heard something that fit my style. The key was keeping my style while watching my style work in different ways."
Ray Charles and Barbra Streisand performed the song as a duet on her 1973 album Barbra Streisand...And Other Musical Instruments. This cover was featured in episode #5.3 "The Glass Is Always Cleaner" of the NBC drama series Las Vegas. Streisand also included a solo version of the song on her 1974 album ButterFly.
Traсklist:
01. Crying Time (2:56)
02. No Use Crying (3:18)
03. Let's Go Get Stoned (3:01)
04. Going Down Slow (4:04)
05. Peace Of Mind (2:12)
06. Tears (4:39)
07. Drifting Blues (6:25)
08. We Don't See Eye To Eye (2:22)
09. You're In For A Big Surprise (3:35)
10. You're Just About To Lose Your Clown (1:58)
11. Don't You Think I Ought To Know (3:07)
12. You've Got A Problem (3:29)
Bitrate:mp3, 192 kbps Size: 55 MB
Download